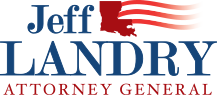 Jeff Landry, conservative candidate for Louisiana Attorney General and former Congressman from LA-3, has received the endorsement of Rick Santorum, former U.S. Senator and Presidential candidate.  Landry's campaign sent out the below email regarding the announcement today:
The campaign is heating up, and our momentum continues to build.

Rick Santorum – the winner of the 2012 Louisiana Republican Presidential Primary, former U.S. Senator, and Chairman of Patriot Voices – today announced his endorsement of our campaign for Attorney General.

I am thrilled to have Senator Santorum's endorsement as we work to bring honesty, integrity and conservative principles to the Attorney General's Office.

Senator Santorum said in his endorsement that he has always been impressed by my principled, conservative leadership.
"Jeff is not just a lifelong Republican, but a lifelong conservative who is committed to bettering his community and the State of Louisiana. Jeff has shown his commitment to public service as a decorated veteran, as a sheriff, and a Member of Congress; and I am proud to support his candidacy to be Louisiana's next Attorney General."
Senator Santorum recognizes the critical need for a proven conservative as Louisiana's next Attorney General to fight the regulatory overreach of President Obama and his Administration.

With your help, I can provide our state that leadership. Please visit my website and join our team. And if you are able to contribute financially to our efforts of protecting our families, freedoms and the rule of law – please do so right now online here.

Thanks in advance for your support,
Jeff Landry
Your Candidate for Attorney General
This endorsement comes on the heel of another recent endorsement by Congressman John Fleming of Louisiana.